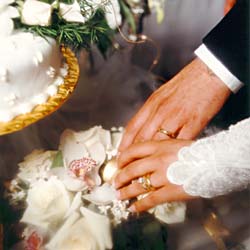 PRONOUNCEMENT & CHARGE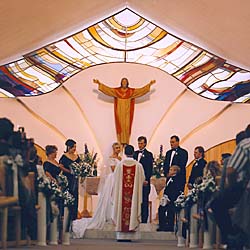 The wedding ring is the outward and visible sign of an inward and spiritual bond which unites two hearts in endless love. The circle, the emblem of eternity; the gold, the type of what is least tarnished and most enduring--it is to show how lasting and imperishable is the faith now pledged. Let the ring, a fit token of that which is unending, continue to be to you both a symbol of the value, the purity, and the constancy of true wedded love, and the seal of the vows in which you have both pledged your most solemn and sacred honor.



By the authority committed unto me as a Internet Guru, I declare that you are now husband and wife, according to the ordinance stated somewhere on the web.

Dear Ones, I strongly charge you both as cyber husband and cyber wife, to preserve sacredly the privacies of your own home, your cyber marriage state, and your heart. Remember our Lord's urgent counsel: "What God hath joined together let not man put assunder". Therefore, let no one ever presume to come between you, or to share the joys or the sorrows that belong to you two alone. It is further advised that if this love is true, and to be lasting that you find a minister or legal representative of the state to legaling bind your love in real wedded bonds.

NEXT







Email MrHugs at MrHugs1@yahoo.comor at MrHugs1@mindspring.com